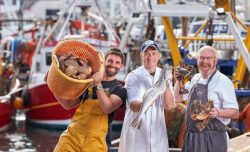 THE biggest celebration of English seafood takes place on the English Riviera in South Devon, from 29th September to 15th October, with top chefs, fishermen, restaurants and food writers demonstrating the quality of world-renowned locally caught and landed seafood.
More than 40 eateries have joined forces to put on an incredible array of experiences and special menus – it's an opportunity to dine like a local, taste some of the best seafood in the world right where it's landed, learn about sustainable fishing practices and meet the people who make the festival what it is.
England's Seafood FEAST is expected to attract thousands of locals and visitors for a journey from sea to plate in Brixham, Paignton and Torquay. Here are a few of the special events and star performers:
The Scallop Diver – Frazer Pugh, director of The Hand Picked Scallop Co., dives for scallops locally on the seafood coast, to depths of 10 to 29 metres. He catches around 2,000 scallops per fishing day. A portion of them go to ethical wholesalers, some go directly to restaurants on the English Riviera and around the country and the rest are processed and delivered to their nationwide customers. Frazer says: "Sustainable fishing goes further than whether a single species will remain a viable commercial commodity. It is just as much about what detrimental effect catching that one species has on the marine environment as a whole. For example, are we causing damage to the habitat to catch it? Are we taking the food source of another species to the point that said species is declining? But most importantly, is it morally correct? For something to be truly sustainable; we need to look at the bigger picture, rather than focusing on the narrow point of what suits us."
The Michelin-star Chef – Simon Hulstone, chef/proprietor of The Elephant, which he runs with his wife Katy; it is the first restaurant in Torquay to be awarded a Michelin star which it has maintained since 2006. There will be Seafood Celebration lunches at The Elephant from Wednesday to Saturday, 4th to 7th and 11th to 14th October.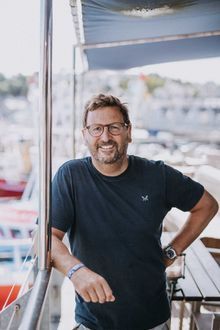 The Restaurateur – Mitch Tonks is the founder and CEO of Rockfish, a unique seafood business which catches, processes and serves local seafood at nine coastal locations in the South West, as well as delivering fresh fish to people nationwide from the Rockfish online seafood market. His life's mission is to get more people to enjoy British seafood in the UK. He says: "The world of seafood can be a bit of a mystery sometimes, we often stick to the things we know. Our Seafood Coast in England has the most amazing range of species caught and landed in our waters by our fishermen." Rockfish Brixham and Rockfish Torquay will be serving specials of local mussels with their signature unlimited chips throughout the festival.
The SUP Adventurer – Brendon Prince, International Stand Up Paddle Boarder (SUP) of 2022, holds an impressive nine SUP world records, including circumnavigating mainland Britain on a stand up paddle board known as "The Long Paddle." This summer, he achieved a world record by living on a paddle board for eight days (and four minutes!), taking with him all necessary supplies from the start, as supply drops were not allowed. Throughout this challenge, he never set foot ashore. His ultimate aim is to raise awareness about preventable drownings. Meet Brendon at Shoreline Paignton on 13th October, for a three-course Seafood Sharing Feast, to hear about his inspiring journey, and raise money for his water safety education charity, Above Water.
The Coastal Artist – Becky Bettesworth, who lives in South Devon, draws inspiration from the classic railway posters of the 1930s. She designs vintage posters with a modern and fresh twist. Her portfolio began when she was asked to exhibit in the gallery at the National Trust's Greenway in 2013. Meet Becky for a Coastal Art and Afternoon Tea at Hampton by Hilton Hotel on 13th October.
The Winemaker – Duncan Schwab, chief executive and head winemaker at Sandridge Barton, Duncan Schwab joined the team in 1992 at the winery, known then as Sharpham Wine. Following a move to the Sandridge Barton Estate near Stoke Gabriel in 2022, Duncan now heads the team at the state-of-the-art winery and visitor centre on Lower Well Farm.
The Marine Biologist – Monty Halls, Dartmouth-based explorer, marine biologist and broadcaster, is on a voyage, Generation: Sea Change, to explore the South West and highlight the inspiring stories of coastal communities and individuals tackling challenges around marine conservation. He is joined by his family, Tam, Isla and Molly, plus their golden retriever Luna. The Royal Caribbean Group is the lead partner in this voyage of discovery. Monty will give a talk at The Thatched Tavern on 11th October, after a five-course seafood taster menu.
The Author – Matt Newbury, the author of Wild Swimming Walks (Torbay, Dartmoor and South Devon and Cornwall editions), will be at Goodrington Beach for a Seafood Feast Dip and Dine at Cantina on 3rd October. The evening will include a wild sea swim, talks, short films, and a bowl of warming seafood chowder.
Pictured: Welcome to England's Seafood Feast; chef and campaigner Mitch Tonks.