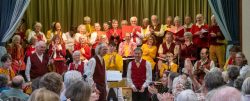 IT seems hard to believe that it is ten years since the first performances of the Ridgeway Singers and Band, and the anniversary is being celebrated with  a concert at Bridport on Sunday 29th October. The group's concerts of traditional (and new) Dorset songs and tunes feels like an ancient part of the cultural fabric of the county.
Formed by Artsreach, Dorset's rural touring arts charity in 2013, the Ridgeway Singers and Band was led by musical director Tim Laycock, one of Dorset's best-known musicians, actors and oral historians, and multi-instrumentalist Phil Humphries, famed for his prowess on the historic serpent. The new group was founded to explore the musical traditions of the South Dorset Ridgeway, part of the Dorset Area of Outstanding Natural Beauty, and Dorset's heritage of West Gallery songs and music (featured particularly in Thomas Hardy's Under The Greenwood Tree).
Initially, the Ridgeways rehearsed at Abbotsbury village hall, drawing their repertoire from the carols and Christmas music, stories and poetry of the Ridgeway area. The first concerts were very local, at Winterborne Abbas and Abbotsbury.
The following year they widened their approach to look at folk songs collected by the Hammond brothers in Dorset in the early 20th century, and the dance tunes of the Hardy and Benjamin Rose (early 19th century) collections.
The group's repertoire has expanded to include new songs and music on local themes composed by members of the group and their many musical friends in the county. Two of the most popular new works are Anna Eveleigh's In Praise of Dorset Apples, and Tim Laycock's Ridgeway Carol, One Bright Star.
The first of the two tenth anniversary concerts is at the Old Brewery Hall at 7.30pm at Ansty, right in the heart of the Blackmore Vale. The programme will include seasonal songs, dance tunes from the collection of Benjamin Rose of Belchalwell near Ibberton, and readings from William Barnes and Thomas Hardy. The concert takes place on Trafalgar Day, 21st October, and the group will be marking the occasion with some suitable musical items!
The second concert will be at St Mary's Parish Church in Bridport, in a matinee performance at 4pm on Sunday 29th October. Book via www.ridgewaysingersandband.org or telephone 01305 262159.