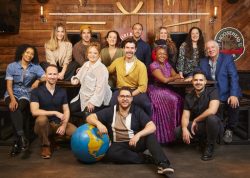 THE the multi award-winning musical Come From Away comes to Plymouth Theatre Royal from 9th to 13th April, to the Mayflower Theatre in Southampton from 16th to 20th April and to Bristol Hippodrome from 20th to 31st August.
The show is based on the real-life story of the 7,000 air passengers from all over the world who were on the 38 planes forced to land in Gander, Newfoundland, as the horrors of 9/11 unfolded, and of the small community who invited these 'come from aways' (as they call foreigners and tourists) into their lives.
Widely regarded as the best new musical of recent years, its various runs were stalled by Covid, and the tour is eagerly awaited.