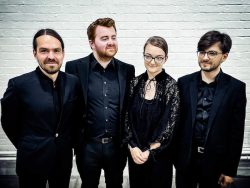 THE Fitzroy Quartet comes to Dorset and Somerset for the November tour of Concerts in the West to Bridport, Ilminster, Crewkerne and Uplyme, from Friday 3rd to Sunday 5th, with a programme of string quartets by Haydn, Szymanowski and Debussy.
The Fitzroys are Dan-Iulian Drutac and Jure Smirnov Ostir, violins, Matthew Maguire, viola, and Michael Newman, cello. The quartet was formed in 2015 while all four members were studying at the Royal Academy of Music.
Following their studies, the quartet was immediately appointed as Chamber Music Fellows at the Academy while simultaneously being named as Associate Ensemble at the Royal Birmingham Conservatoire, a position they held for three years.
They have won many prizes and awards.and play regularly at the Wigmore Hall, and across the UK, Europe and the world at prestigious venues and festivals.
The programme at Bridport Arts Centre, for the coffee concert at 11.30am on Friday, is Haydn's String Quartet No 3 and Debussy's quartet in G minor. At Ilminster Arts Centre at 7.30pm on Friday evening, Crewkerne's Dance House on Saturday at 7.30 and Uplyme Church on Sunday at 3pm, they will also play Szymanowski's quartet No 2.