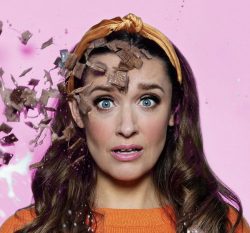 BACK in the noughties, comedian Sophie McCartney didn't think she was the maternal type – but 20 years on, she's in her 30s, and has evolved from wild child to with child (or rather children) – the theme of her new show, Sophie McCartney is Tired and Tested, coming to the Electric Palace at Bridport on Friday 6th October.
Join Sophie as she ventures into the perilous world of parenthood. Best known for her wickedly accurate insights into adult life, Sophie thought by the time she became a 'proper' grown up (someone who likes olives) life would all be figured out.
How very wrong she was. She describes herself as feeling like an out-of-depth-teen trapped in the slightly sagging skin-suit of a 30-something mum-of-three. Why did no one tell her what to expect after she was expecting? Why do you need a degree in collapsing travel cots? And does she have what it takes to stop her current cereal eaters from becoming future serial killers?
Sophie's laugh-out-lout debut book, Tired and Tested: The Wild Ride into Parenthood, topped the Sunday Times bestseller list, she has won a Funny Women award, has more than 250 million views on her social media channels and is about to launch her first comedy novel, Mother Hens.