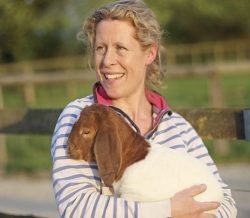 A FAMILY farm on the beautiful Marlborough Downs in north Wiltshire, which is part of a pioneering environmental scheme, is promoting its flock of Boer goats as a healthy meat alternative and the source of a wide range of gifts.
Since 2012, farmer Laura Corbett has been one of more than 40 members of the ground-breaking project, farming on a landscape scale for conservation, which today is called the Marlborough Downs Nature Enhancement Partnership or "Space for Nature".
As well as other animals and livestock, including a herd of White Park cattle, Laura has established The Gourmet Goat Farm with a herd of 300 Boer goats, charming animals which roam the wildflower-rich meadows of the farm near Avebury, with its 5,000-year old stone circle, and the Neolithic camp at Windmill Hlll.
The goats arrived at the farm in 2017 but the new business was hit during Covid, when pubs and restaurants were closed and the family lost most of their customers overnight. Undaunted, Laura sought other goat-orientated businesses and joined forces to create an online range of goat-inspired products to sustain each other's living.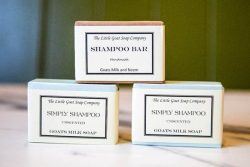 Post-pandemic, they are once again, with the farm shop, group visits, Open Farm Sundays and other events, encouraging people to come and learn about the goats, the farm and the area. Laura says: "With more than 83 per cent of the UK population living in urban areas, we feel we have a responsibility to open our doors and educate the general public to farming. We welcome small organised groups to the farm throughout the year, and have hosted Open Farm Sunday numerous years, showcasing our work and that of neighbouring farmers."
Goats were the first domesticated animal. They have played an important role in many cultures and religions for thousands of years, but most notably at Christmas. According to Scandinavians, at Yule time, Father Christmas rides in on a white Yule Goat carrying presents, while Bacchus, the Greek god of partying, and his Roman counterpart, Dionysus, were associated with goats.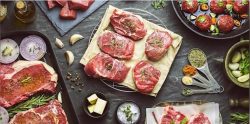 As well as a full range of cuts of meat, the Gourmet Goat range includes angora mohair boot socks; a laptop brush (the anti-static properties of goat hair and its ability to collect dust particles, rather than spread them about, make it excellent for dusting); solid shampoo (made in small batches using raw goat milk, natural oils, butters and essential oils, free from artificial colours and fragrances, parabens, SLS and phthalates); bath salts and scrubs; and handmade goat keyrings made from off-cuts or recycled leather. You can also book a butchery class to learn about meat and traditional butchery skills.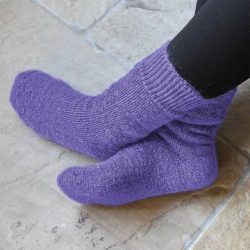 As well as The Larder, a cafe and farm shop, visitors can also enjoy some spectacular walks in this fascinating ancient landscape. There are a variety of routes, both circular and linear, to walk up to the top of Windmill Hill. The site is under National Trust and English Heritage guardianship and is part of the Avebury World Heritage site. Defined as a classic example of a Neolithic causewayed enclosure, with three concentric but intermittent ditches. There are exceptional views across the local landscape including Avebury stone circle and Silbury Hill.
Images: Laura Corbett with a beautiful Boer kid, the range of goat meat products and examples of goat-related gifts.