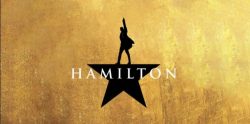 HAMILTON, the Lin Manuel Miranda show that shook and enthralled the world of stage musicals, starts its first UK tour in 2024, and in the following months visits three venues in the south and west.
First stop in the region is at Bristol Hippodrome from 30th April to 22nd June 2024, and the tour returns south to the Mayflower at Southampton from 18th March to 26th April 2025, and to Plymouth Theatre Royal from 30th July to 6th September 2025.
The tour is produced by Jeffrey Seller and Cameron Mackintosh and the cast will soon be announced. The Hamilton score blends hip-hop, jazz, R&B and Broadway, and tells the story of American founding father Alexander Hamilton.
Tickets for Bristol, where performances are from Monday to Saturday weekly with Wednesday and Saturday matinees, are now on sale. Tickets for the 2025 dates will go on sale early next year.