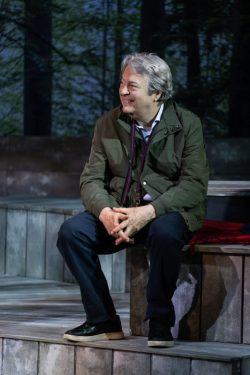 IF you want to learn about how to get old and how to deal with loneliness, but how to laugh at the same time, you might book your ticket for Frank and Percy, the new play coming to Bath's Theatre Royal for two weeks from 25th July.
The writer is the 31-year-old Ben Weatherill, who was inspired by the isolation he experienced during lockdown, when the only people he spoke to were other dog walkers. What if such a conversation was the start of a really important relationship in your life, he wondered.
And the result was a play that stars two of the greatest stars of the English stage, 84 year old Ian McKellen and Roger Allam, 14 years his junior. The two actors have performed together once before on stage, in Aladdin, Sir Ian's first pantomime, in 2012 at the Old Vic. The knight and star of Lord of the Rings gave his first dame – the legendary Widow Twankey, and Roger Allam was arch-baddie, Abanazar – he of Open Sesame fame. Allam also appeared as a doctor in McKellen's 2015 film Mr Holmes. Both have played Prospero, and also Uncle Vanya, McKellen at the Cottesloe in 1992 and Allam at the Minerva in Chichester in 2012.
The director of Aladdin was Sean Mathias and it was he whom Ben Weatherill approached with his play about two old men who walk their dogs on Hampstead Heath. The multi-award winning director immediately recognised the power of the writing and its potential appeal to audiences, and the script was sent to McKellen and Allam, who were equally delighted at the prospect of performing a new play with such insight, wit and pathos.
Allam plays Frank, a retired schoolteacher whose wife died four years before the play is set. McKellen is Percy, a still-working professor and writer whose own 30-year gay partnership has broken down. At the beginning, they exchange what are typical dog-walker words, slight and usually inconsequential. But as the play unfolds, so does their relationship, and they realise that the pain of their loneliness can be mopped up by the discoveries and delights of a new friendship.
The play opened in Richmond, where, according to Roger Allam, audiences have been laughing, been quiet for the serious bits and whooping and cheering at the end. "What more could you ask for," he says.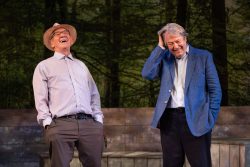 The press reception to the play has been as positive as the audience reaction, and moves are afoot to take it into London in the autumn, though no plans are settled. " We are both hoping it happens," says Allam.
And HIS plans after the run? "Just to keep on working," he says.
Roger Allam has had a lengthy and versatile career, which has ranged from creating the role of Javert in the original production of Les Miserables, playing the vain, prolific, philandering and curmudgeonly crime writer Nicholas in Tamara Drewe, which was filmed in Yetminster, and First Officer Douglas Richardson in the hilarious John Finnemore radio series Cabin Pressure.
After the end of the Morse prequel Endeavour earlier this year, his beloved Inspector Fred Thursday went off with Win to a new job. Then came Murder in Provence, with a three-part taster that started on Britbox. But then, in the way of big fishes and little fishes, changes at joint BBC and ITV streaming service Britbox meant that the company was no longer commissioning original programmes, and it looks as though, in spite of their audience appeal, the rest of the stories of Antoine Verlaque and Marine Bonnet will remain untold, other than in print.
In the meantime, Bath Theatre Royal audiences have a chance to see Roger Allam – and Sir Ian McKellen – on stage in this exciting new play.
Photographs by Jack Merriman.