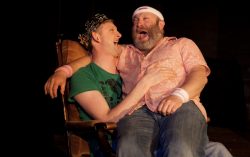 THE hilariously funny, cuddly, wry and inspired Howard Coggins, best known in the south west as co-founder of Living Spit and nationally for his Lottery adverts, has died at the age of 52. He was diagnosed with cancer late in 2022.
Frustrated with playing bit parts in other people's shows, Howard and Stu McLoughlin started Living Spit in 2012. Together they created and performed 18 theatre shows. They first met in 1997 when both were cast in Up the Feeder, Down the Mouth and Back Again, a musical about the history of Bristol's docks and dockworkers.
In his final months, Howard made it clear that he wanted Stu, Craig Edwards,Trimmo and Ali Robertson to continue developing Living Spit, "So that's what we'll do. Every performance, every joke, every laugh, every tear, every song will be for Howard," says Stu.
The company's next show in our area will be their new adaptation of A Christmas Carol, on stage at Lyme Regis Marine Theatre on 28th, The Exchange at Sturminster Newton on Thursday 30th November, Salisbury Arts Centre on 2nd December and the rescheduled date at Chetnole Village Hall on 3rd December.