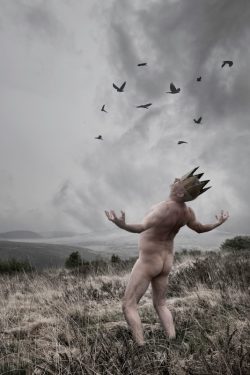 ACCLAIMED performer Paul Morel comes to Buckland Newton village hall on Friday 24th November and Powerstock Hut on Saturday 25th with a new solo version of Shakespeare's great tragedy, King Lear, by the inventive Oddbodies theatre company.
Armed with only a drum, a guitar, a knife and a chair, Morel follow the tragic trajectory of Lear's final months from the point of view of his long-suffering and ever-loyal fool. The bastard Edmund, haughty Goneril, vicious Regan, poor deluded Gloucester, oily Oswald, courageous and loyal Cordelia, mad Tom … all the characters from this sad and sorry tale are brought to life in this fast paced, funny and ultimately heartbreaking production.
Directed by John Mowat, this is an important, imaginative and irreverent reworking of one of Shakespeare's most brilliant and powerful plays, delivered with Oddbodies' trademark physical ingenuity and visual flair. Expect betrayal, delusion, deceit, love, loyalty, lust and greed.
Both performances begin at 7.30pm.