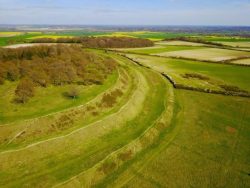 WIMBORNE Community Theatre is looking for dancers, singers and musicians to take part in a site-specific performance at the Iron Age hillfort of Badbury Rings, on Cranborne Chase, between Wimborne and Blandford in late September.
"Glow Badbury"' organised by Emerald Ant in partnership with the National Trust, will involve visual artists and musicians in creating a celebration of the Rings through illuminated ambient performance pieces on 29th and 30th September.
WCT has been invited to create this new piece of theatre to portray the true story of the Dorset Clubmen. During the English Civil War in the 1640s, thousands of East Dorset tradesmen and farmers and farm labourers met at the Rings to protest against both sides in the war trampling across their land, damaging their crops and stealing livestock and produce. Church bells were rung around the villages and more than 4,000 people turned out to hear a petition read aloud up at the Rings.
The WCT show, created with local professional theatre makers, choreographers and musicians, will combine acting, singing, percussion and original choreographed movement.
If you enjoy drama, dance or history and would like to get involved, please contact WCT. Anyone over 18 years is invited to join a movement workshop led by choreographer, Claire Benson, at Badbury Rings, on Saturday afternoon, 17th June.
If you would like to take part, contact Tony Horitz for more details – Tony.horitz@nullicloud.com or telephone 07584 163876; www.wimbornecommunitytheatre.co.uk