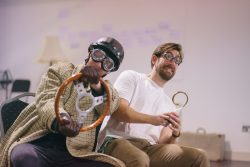 WHEN Luke Barton, Patrick Warner and Alistair Cope take their places on the authentic 1920s set of Jeeves and Wooster in Perfect Nonsense, at Salisbury Playhouse from 1st to 23rd September, the audience will think they are seeing three of PG Wodehouse's classic creations – Bertie Wooster, his indispensable valet Jeeves and his Aunt Dahlia's butler, Seppings.
But in fact there will be about 12 characters on stage, including several alarming aunts, a delightful selection of marriageable young ladies, a handful of titled or double-barrelled (but sadly brainless) young toffs and at least one blustering baronet.
The three actors are clearly loving every minute of rehearsal time in what they all describe as a wonderful venue with a great technical and back-stage team. They are, says Patrick Warner, laughing their way through Robert and David Goodale's hilarious script, which draws on Wodehouse's brilliantly drawn characters and farcical storylines.
"It's really difficult – it is SO funny," he says. He had never read any Wodehouse tales before being cast as Jeeves, but is loving them. "They are wonderfully satirical – that whole upper class world is being sent up."
Patrick loves Salisbury Playhouse, where he appeared last year, playing Peter Sellers in Ian Hislop and Nick Newman's hilarious play Spike (about the Goons). "It's a lovely theatre – and the audience is so close."
While studying theology and religious studies ("very interesting," he says, if not necessarily helpful for a future career), at Trinity College, Cambridge, he played Claudius in a student production of Hamlet that toured Europe. And with Luke (Bertie) he did a one-night Comedy of Errors at a London studio theatre – but most of his career has been in comedy (and on stage). However, he does have a screen role coming up – as an RAF officer in an Apple TV series called Masters of the Air (about the American Airforce). He thinks he may have been left on the cutting-room floor.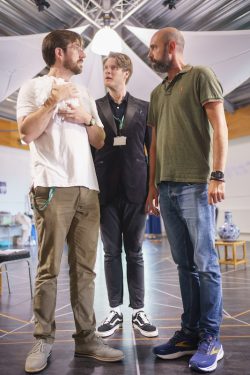 Like all the best farce, Wodehouse's plots are always just a whisker from being realistic – and there is little argument that the inter-war period was a time when expensively (but inadequately) educated, rich young men relied completely on the guile, stealth, quick wits and all-round skill of their valets and butlers.
Jeeves and Wooster in Perfect Nonsense has a premise that is, well, perfect: Bertie Wooster comes up with a super wheeze to put on a play at a country house weekend at Totleigh Towers. The action revolves around Bertie's efforts to play matchmaker between his newt-fancying friend Gussie Fink-Nottle and the girl of his dreams, Madeline Bassett, with predictable opposition and disruption from Bertie's formidable Aunt Dahlia and the appalling Sir Watkyn Bassett.
Playing Wodehouse characters is new to the three cast members, but all of them have extensive experience of comedy. As well as Spike, Patrick Warner has appeared in several Mischief Theatre productions, including The Play That Goes Wrong. Alistair Cope grew up in a family that loved Jeeves and Wooster on television. He also played around 15 characters, with 30 costume changes, in the dark comedy, The Massive Tragedy of Madame Bovary, directed by Marieke Audsley, who is directing this Jeeves and Wooster production.
Luke Barton spent much of the past year on a 10-month tour with Black-eyed Theatre playing the title role in another black comedy, Sherlock Holmes in the Valley of Fear – as well as the villain (the great detective and the baddie never appear on stage at the same time.) Sherlock Holmes to Bertie Wooster is quite a leap!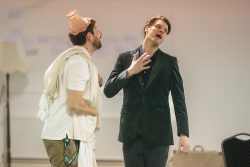 It's Alistair's first time on stage in Salisbury and he is loving it. "It is amazing here – the support we have in this play makes it an absolute joy to come to work every day. It's like a mini National Theatre with everything under one roof. The workshop is so good. Seeing our costume designs immediately helped and we had props from day one."
Luke agrees: "It is a lovely venue. The people working here are brilliant – Salisbury is lucky to have this place."
On his lengthy Sherlock tour, Luke saw how audiences were gradually coming back to live theatre after the pandemic and lockdowns, but it has been a slow process: "It was a very scary time for everyone – and certainly in our profession. You took whatever was offered." But he enjoyed the experience and is now looking forward to three weeks in Salisbury and another three at the Bolton Octagon, with this "masterpiece" of brilliant writing.
"People need to laugh," he says.
Photographs by Ash Mills.