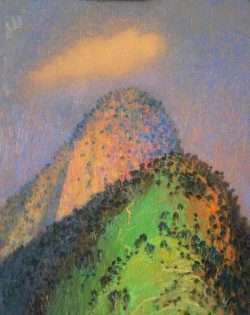 TOBIT Roche returns to the Art Stable at Gold Hill Organic Farm, Child Okeford, for his sixth solo exhibition of paintings, continuing to 18th November. As always, his paintings are characterised by subtle layers of colour and a passion for nature and natural beauty. The themes of this exhibition are "magic mountains" in India, where he grew up, and in Dorset, specifically Hambledon Hill, with its Iron Age hill fort, looking down on Child Okeford and the farmyard and gallery.
The artist says: "As a teenager growing up in India, I was often exposed to magical mountainscapes, particularly when journeying to the Himalaya and its foothills, or travelling by train through the Aravalli Range in Rajasthan. These memories have stayed with me, inspiring many subsequent visits, and not least turning India for me into a kind of spiritual home.
"In these recent paintings, I've tried to reconnect with this landscape of memories, and it is within the hills and mountains of India, that I find a compelling vehicle for self-expression."
Born in Manchester in 1954, Tobit Roche grew up in Hong Kong, Canada and India. He attended the Ontario College of Art from 1974-6, coming into contact with The Group of Seven painters and Camberwell School of Art from 1977-80. He also spent a year working alongside Duncan Grant at Charleston in Sussex.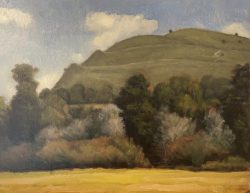 Running over the same period to 18th November, the Art Stable also has The Still Point, a retrospective exhibition of paintings by the Essex-born artist John Ridgewell (1937 to 2004).The Still Point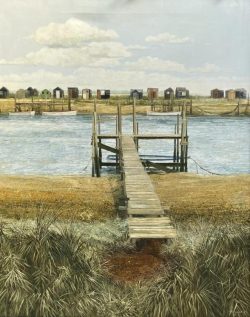 Ridgewell studied alongside David Hockney and RB Kitaj at the Royal College of Art. He and his family moved around England, from Yorkshire to Suffolk, via Dorset, his surroundings creeping into and influencing his paintings. His work is described as "fascinating compressions of art history – in them can be read the early, profound influence of Georges Braque, a hint of British Surrealism in their witty treatment of subject, and the meticulous trompe l'oeil of 17th Century Dutch and Flemish paintings."
In his later work, there are blurrings between the real and the surreal, as in a painting of a sheet, laid out in a receding landscape with letters that spell out his wife and child's names. He played with the picture plane itself, creating trompe l'oeil frames from which the painting bled outwards, appearing to wrap the canvas with string and even painting on the back of the canvas itself.
He showed regularly during his lifetime at The New Art Centre near Salisbury and Fischer Fine Art in London, in Gothenberg, Salzburg, Toronto, Dublin and Luxemburg. His works are in a number of public collections including the Government Art Collection, The Harris Museum and Art Gallery in Preston, Nuffield College, Oxford and the Royal College of Art.
Pictured: Tobit Roche, Green Hill with Woods, oil on canvas, and Hambledon Hill from Child Okeford, oil on board; John Ridgewell, Walberswick, Suffolk II, oil on canvas.