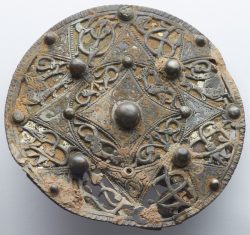 A RARE early medieval brooch has gone on display at the Museum of Somerset in Taunton. This exceptionally well-preserved and beautiful piece, which is more than a thousand years old, is one of the most important objects found in Somerset.
It comes from a time when the survival of Saxon Wessex was in doubt and Somerset provided a refuge for King Alfred the Great at Athelney.
Dating from about AD 800 to 900, the large silver and copper alloy disc brooch was found by metal detector Iain Sansome on farmland near Cheddar, in 2020. He reported it through the Portable Antiquities Scheme via his local finds liaison officer, who, with South West Heritage Trust, organised a follow-up archaeological excavation. The brooch was acquired by the Museum under the Treasure Act 1996 with generous support from the Arts Council England/V&A Purchase Grant Fund, the Art Fund and the Friends of the Museum of Somerset.
Conservation work by Pieta Greaves of Drakon Heritage has removed centuries of corrosion and soil deposits to reveal the exceptional quality of its decoration. Interlaced animal and plant designs in bright silver and black 'niello' are set against a gilded back panel. The animals represented include a wyvern – a dragon-like creature with two legs, wings and long tail, that would become one of the symbols of Wessex.
Curator of Archaeology, Amal Khreisheh, says: "Conservation has transformed this fascinating brooch and revealed the intricacies of its design. The details uncovered include fine scratches on the reverse which may have helped the maker to map out the design. A tiny contemporary mend on the beaded border suggests that the brooch was cherished by its owner and worn for an extended period of time before it was lost. We're very excited that we can show the brooch in the county where it was found and share it with people in Somerset and beyond through our programme of events."
Tom Mayberry, chief executive of South West Heritage Trust says: "In 878, Alfred the Great rallied his forces in Somerset and defeated the invading Danish army. Wessex was secure and the foundations had been laid for the creation of a unified English kingdom. The Cheddar Brooch comes from a time that was a turning point in English history."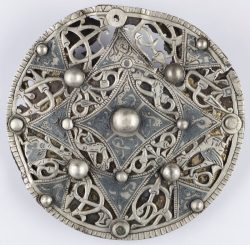 The Cheddar Brooch will be on display in the Museum's 'Making Somerset' gallery from Friday 20th October. The Museum is open Tuesday to Saturday, 10 am to 5pm and entry is free. A programme of talks and family activities is taking place over the autumn where people can find out more.  Five days of family activities relating to the Cheddar Brooch will be held in October half term: Saxon Re-enactors (Saturday 21st October), Make a Brooch (Tuesday 24th and Wednesday 25th) and Be an Archaeologist (Thursday 26th and Friday 27th).
Amal Khreisheh will talk about the Cheddar Brooch on Friday 10th November as part of the museum's Talk and Tea programme and Tom Mayberry will give an evening talk on King Alfred's Somerset and the Cheddar Brooch on 23rd November.
The South West Heritage Trust is working with community partners in Cheddar to develop a programme of activities related to the Cheddar Brooch. This will culminate in a community event in Cheddar in the spring of 2024 when people will be able to see the brooch in the parish where it was found. Visit swheritage.org.uk to find out more.
Disc brooches were used to fasten and decorate clothing. This disc brooch, in what is known as Trewhiddle style, is 91mm in diameter, 1.93 mm thick and weighs 76.12g. Trewhiddle takes its name from the Trewhiddle Hoard found in 1774 in Trewhiddle, Cornwall. Objects from this hoard were the first that were identified as being of this style. A significant group of six Trewhiddle brooches from Pentney in Norfolk was discovered in the late 1970s and is now in the British Museum.
Photographs of the Cheddar brooch before and after conservation work. © South West Heritage Trust