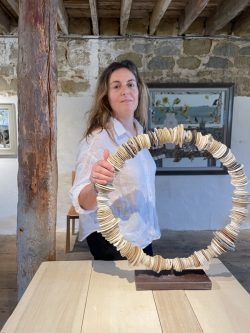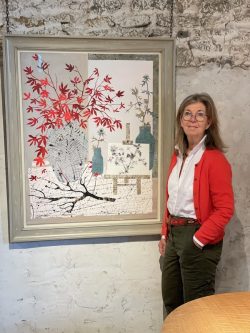 IT's not easy being the son or daughter of a famous artist – whether it is painting or sculpture, music or acting, there is an expectation that cannot always be met, particularly if the offspring's work is very different from the parent's. People either expect you to do whatever your famous parent did – but of course not so well – or they are disappointed if you want to do your own thing.
But for mother and daughter Marzia Colonna and Fiamma Colonna Montagu that potentially difficult balance has been skilfully and successfully achieved. Each is an outstanding talent in her field, each loves and respects the other's work, and each has a distinctive visual "voice" as is evident in Many Moons, a major joint exhibition of recent collages by Marzia, and ceramic portals, columns and totems by Fiamma, at Sladers Yard, West Bay, until 11th November.
Marzia is one of the world's finest contemporary sculptors and an outstanding collage artist. Fiamma is a remarkable ceramic sculptor. Each is an artist with an instantly recognisable style. Both have received large-scale projects and commissions and both have work in important collections in the USA and Europe.
The gallery owner, Anna Powell, describes Many Moons as "a celebration of the years, of finding their personal paths, putting forward voices and ideas that are different but intriguingly compatible, with the pleasure of seeing each other's work develop and often live side by side."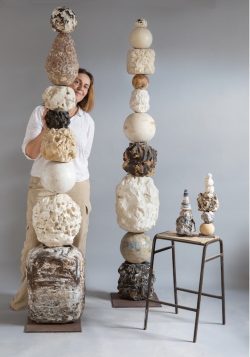 Marzia's collages centre on the things she loves, the land and sea near her Dorset home, the places she visits, interiors of her studio, flowers from her garden, her sculpture. All are represented in cut or ripped paper that she has painted with mostly abstract marks and patterns.
She brings both a sculptor's sense of form and texture and a powerful sense of colour to the collages. Sometimes they are brought together as bright and earth colours, as she does in several still lives, with flowers and ceramic shapes, and particularly in Mango Seller, a work that is unusual because it includes a human figure. Sometimes there is an almost monotone palette that evokes layers of geology, soil, light and darkness – as in the large collage, Moon Rising, in which the dominant colour is many shades of blue, and the dramatic Rough Sea.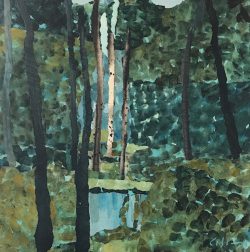 As well as landscapes of West Dorset, in different weather and times of year, the exhibition also includes joyful and colourful images inspired by her visits to Cuba and Mexico. Marzia describes collage-making as "sculpting with paper and painting at the same time." She says: "I try to replicate what I have experienced, not just visually in form and colour, but also in the impact created in my mind, the sensations experienced."
Whatever the subject, landscape or still life, Marzia's collages are infinitely subtle, a tonal mix of layers of colour and texture that capture the soul of her subject – depicting the subject in a way that words cannot explain.
Fiamma Colonna Montagu's sculptures are made combining high-fired stoneware clays with porcelain – black, red, buff and stone grey – and oxides. Each 'element' is thrown, shaped or hand-carved, before being assembled into the piece. The result is large-scale sculpture with strongly contrasting elements, the delicate qualities of porcelain against rough and powerful stoneware.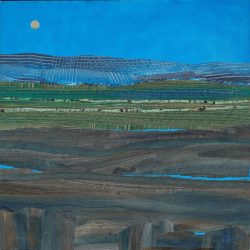 After Oxford University, where she read history and English Literature, Fiamma worked from 2000 to 2008 as a film director and producer for the BBC, ITV and Channel 4. In 2014 she became a major contributor to one of the biggest and most moving of the First World War centenary projects, Blood-Swept Lands and Seas of Red at the Tower of London. A vast "field" of nearly 900,000 red poppies was created by artists Paul Cummins and Tom Piper – each poppy represented a British military fatality during the war. Fiamma was asked if she could produce the poppies. She had only one kiln, but with help from various ceramic factories (some of whom had two or more years' orders to fulfill), the 888,246 ceramic poppies were made and began to fill the Tower moat. Fiamma's powers of persuasion are clearly as great as her artistic talent!
Subsequently, she created the Poppy Tour with sculptural aspects of the installation travelling to 16 sites around the UK, finishing at the Imperial War Museum.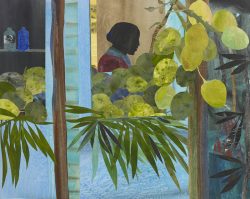 Recent commissions have included vessels and sculptural works with Sam Selwyn Bazeley for each of the new rooms for Claridges and the Melbourne Group, and her large portal, Blue Sky Dreaming, for a private garden in the Algarve.
Describing some of her work – including portals and totems – Fiamma says: "I want to elevate outside and inside spaces from unnoticed areas into symbolic gardens, Zen arenas. I want to create timeless entrances. Mainly, I want to make the viewer feel more engaged, make the world feel less literal and more magical. The right combination of colour, scale and shape transforms the garden, atrium, entrance or courtyard into a stage set in which the viewer can walk 'as if in a dream'."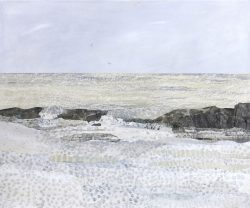 Pictured: Marzia Colonna with Japanese Maple, one of the collages in Many Moons at Sladers Yard, West Bay. Collages by Marzia Colonna – Rough Sea; Nesting Toți; Mango Seller; Sunflower head; Moon Rising; Woodland Pool.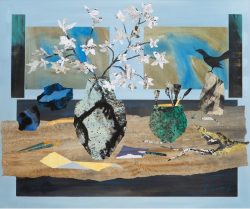 Fiamma Colonna Montagu with one of her mesmerising portal sculptures; Totems – Guardian of the Earth 1, Guardian of the Earth 2; On stool: Meditation Totem 12, The Wild Creative Sea
Meditation Totem 29. on Elements of the Earth
4 columns – Sentinel; Meditation Totem 3, In Praise of Worlds; Guardian Totem 1; Guardian Totem 2