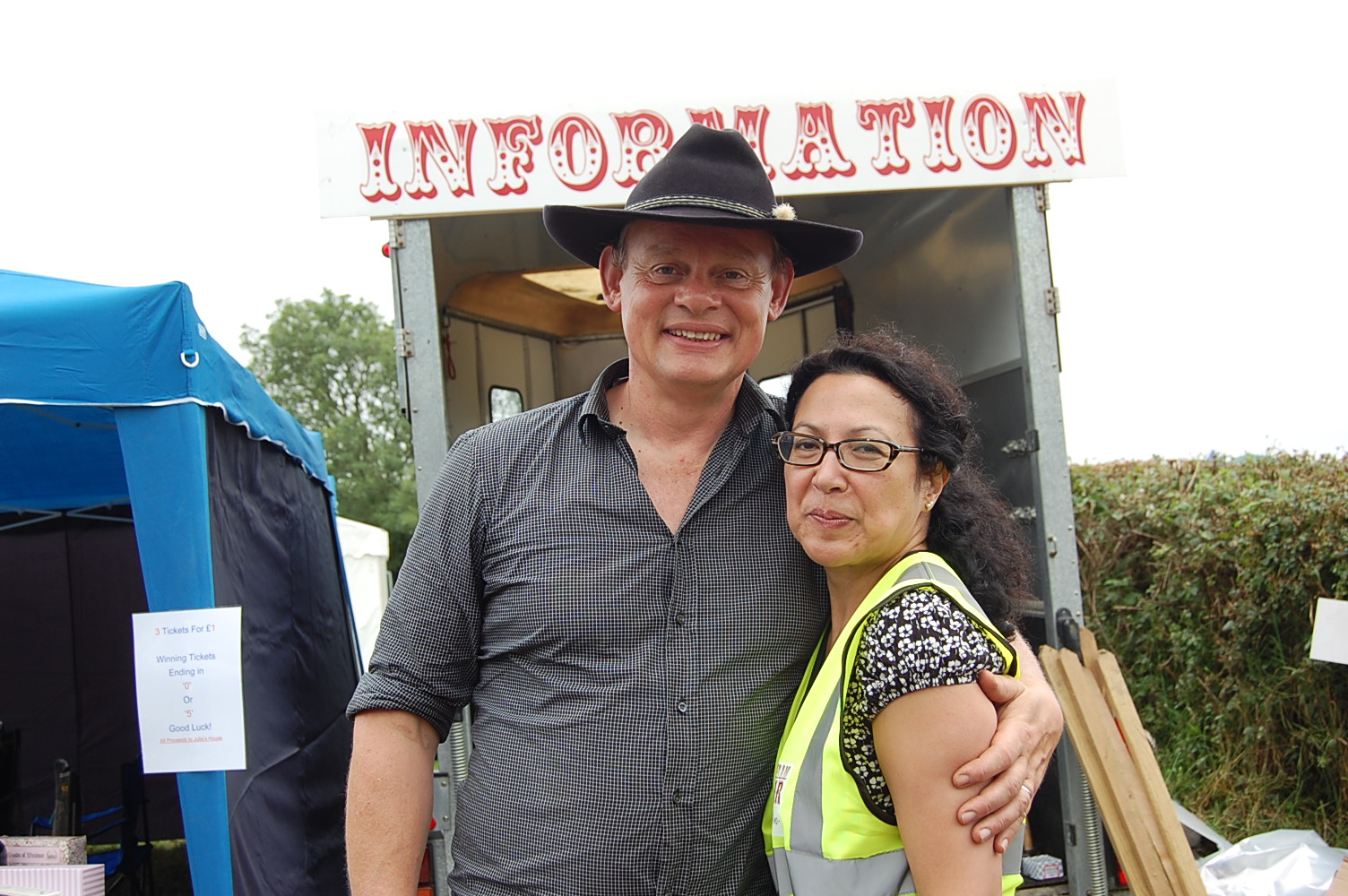 MOST of us would hesitate about welcoming thousands of people on to our land every year. But television star and animal lover Martin Clunes opens fields at his farm at Beaminster every August for Buckham Fair, a one-day country show which has become a firm favourite with visitors and people from across the region.
Now in its seventh year, the 2014 Buckham Fair is on Sunday 17th August, from 9am. It is a celebration of country life, with horses and ponies, dogs of all shapes and sizes, delicious local food, a traditional funfair and lots of trade stands selling everything from home accessories to pet food.
Martin, the star of countless television shows, including the much-loved Men Behaving Badly and the Cornwall-based comedy drama Doc Martin, has lived in Dorset with his wife Philippa and daughter Emily for many years. They moved to the farm at Beaminster in 2007. It was during the protracted conveyancing process that Martin spotted and was later able to buy the two large and relatively flat fields above the farm where Buckham Fair is held.
That first year the Clunes held a successful gymkhana in aid of the charity Riding for the Disabled and the following year, they expanded the event, as a traditional country fair, now named Buckham Fair. "We were thrilled at the way people instantly took it to heart," says Martin.
It has grown in scale and popularity, attracting between 16,000 to 20,000 visitors, and raising tens of thousands of pounds for local charities. Last year's record event raised a staggering £66,000 for Weldmar Hospicecare Trust.
This year's fair is raising funds for the Dorset and Somerset Air Ambulance. Each year Buckham Fair supports one of three important local charities – the others are Weldmar (Philippa is on the hospice board) and Julia's House, of which Martin is patron. "We really like the way the county feels about these charities," he says.
Each year there are new attractions and activities – this year's highlights include a Golden Retriever display team, Canine Search and Rescue dogs and the finals of the Best Rescue Dog competition, which Martin judges, with winners from qualifying heats from around Dorset.
"We've also got the biggest number of trade stands yet," says Martin, "the biggest funfair and more local food stands."
As a renowned animal lover, with dogs, cattle and horses, including two beloved Clydesdales which he both rides and works on the farm, Martin is particularly excited about the display by a team of Clydesdales from Devon. They are used for trekking holidays on Dartmoor, but recently delighted a large crowd at Exeter Racecourse when they competed in a special race over two furlongs.
"Everyone loves the heavy horses," he says, "It's the last part of the fair and many stay on for it." His own Clydesdales will also be on show – "brushed to within an inch of their lives," he jokes.
Martin is famously generous with his time for local charities and activities. "I do say yes to as many local charities as I can," he says. But he is also a busy working actor and documentary presenter. He is currently filming a two-part documentary series called Man and Beast for ITV1. He has been filming in Nepal, Japan, Thailand and at home in Dorset. He has gained an excellent reputation for the warmth and enthusiasm of his wildlife and animal films.
It wasn't a planned career move: "I just stumbled into them," he says. "I was a bit nervous to start with but now I really love doing them."
In September he starts working on a television adaptation of Julian Barnes' novel Arthur and George, in which he plays Arthur Conan Doyle, turning detective after the death of his wife. And next year he will be filming a new series of Doc Martin.
But for the next few weeks, in addition to flying out to Thailand for the documentary, he will be busy on the final planning for Buckham Fair. The AA signs will be going up and the one-way system will be put in place, bringing traffic in from the east, ready for the horseboxes, show and rescue dogs, classic cars, traders and thousands of visitors.
Entries for the horse and pony classes and dog show can be made on the day, or in advance. For more information on Buckham Fair, please visit the website www.buckhamfair.co.uk
Fanny Charles
Pictured are scenes around a recent Buckham Fair, and Martin Clunes with Bhavani Hogarty, one of the fair organisers.