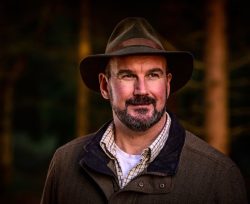 THE award-winning FOLDE Dorset bookshop and gallery at the top of Gold Hill, Shaftesbury, has an impressive line-up of speakers for the autumn series of talks at the Grosvenor Arms. Next up is Tristan Gooley's talk on 15th November, about his book How To Read a Tree is sold out, and there is a waiting list. Each tree we meet is filled with signs that reveal secrets about the life of that tree and the landscape we stand in. The clues are easy to spot when you know what to look for, but remain invisible to most people. In How to Read a Tree, you'll discover the simple principles that explain the shapes and patterns you can see in trees and what they mean. Also sold out is the final talk of the season, on 20th November, with Raynor Winn, the author of The Salt Path, The Wild Silence and Landlines. Winn, whose talk sold out in just one hour.
Karen Brazier, co-owner of FOLDE with Amber Harrison, says: "Shaftesbury is really beginning to establish itself as a go-to destination for readers with an interest in the environment and the natural world, thanks to both our author talks programme and the town's biennial nature-writing festival, Reading the Land, which returns next March. And the Grosvenor's generous hosting of these events opens up opportunities that just wouldn't be possible for a small bookshop on its own."
Amber Harrison, who was on the judging panel for this year's Wainwright Prize for Nature Writing*, says: "It's been wonderful to see how warmly our events have been received, not just by the local community but also by the people who have travelled to the town specifically to hear from an author they love. We know of several attendees who have used it as an opportunity to stay overnight and enjoy some of the town's sights while they're here. That can only be a good thing for Shaftesbury's local economy."
FOLDE Dorset is a nature-themed bookshop and gallery owned by Karen Brazier and Amber Harrison who were recognised by The Bookseller magazine in their Bookshop Heroes Class of 2021.
For full details of the autumn events programme, visit www.foldedorset.com/events, or pick up a flyer from their shop on Gold Hill or The Grosvenor Arms.
* The winners of the 2023 Wainwright Prizes were: Guy Shrubsole for The Lost Rainforests of Britain (conservation), Amy-Jane Beer for The Flow: Rivers, Waters and Wildness (nature writing) and Kiran Millwood Hargrave;s Leils and the Blue Fox (children's writing).
Pictured: Andrew Milham, Stephen Mosse and Tristan Gooley (photograph by Jim Holden).