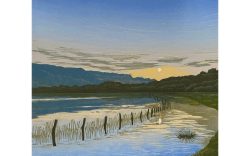 DUTCH-born artist Peter Ursem is exhibiting recent paintings and prints in a joint exhibition with Ruth Oaks from Poole at Shaftesbury Arts Centre until 24th October.
Peter, with his wife musician and singer Helen Porter, lived in Dorset for more than 12 years. He and Helen moved to Cornwall, to the Tamar Valley, where they set up Gresham House Studios, offering a programme of singing and art courses in one of England's most inspirational landscapes. Peter has a gallery as well as his studio and both are fully involved in the artistic and cultural life of the county.
As well as his painting and printmaking, Peter is also a writer, going back to his early years when he studied literature and graduated from the University of Utrecht. He also graduated in drawing, painting and printmaking from the Royal Academy of Fine Arts in The Hague.
During his years in Dorset, landscape gradually became the main subject matter in his work. However, his interest in language and words remained ever present, with a particular interest in the graphic form of text.
In 2000 Peter Ursem received an Arts Council Year of the Artist award for Reflections, a Book of Woodcuts of the River Stour. Following this, he immersed himself in exploring relief printing techniques, in particular lino-cuts and wood-cuts. In 2010 the Dorset County Museum showed Dorset Footprint, an exhibition of drawings, paintings and prints looking back at Peter's first decade in England.
In 2016 Peter added fiction writing to his portfolio and, as Petrus Ursem, published his first novel (for young readers), The Fortune of the Seventh Stone, which developed into an exciting and accomplished trilogy. For more information visit his website, www.petrus-ursem.co.uk