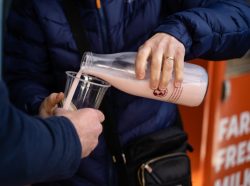 THE picturesque village of Nunney, near Frome, will be the setting for a new regenerative milk vending trial. Golden Hooves milk and milkshakes being sold in-store for the first time. The machines will be stationed at the SPAR on the Market Place from Wednesday 18th October, where Bill the Butcher sells regeneratively farmed meat.
This trial will mark the beginning of a new chapter for Golden Hooves, which is part of British farmer-owned dairy co-operative, First Milk. The vending machines have previously been stationed only on farms that produce the milk, and the new off-farm vending concept will now look to widen the availability of the co-op members' milk by partnering with stores across the UK.
Alongside Golden Hooves' nutritious, fully traceable and regeneratively farmed milk, the vending machine will also offer a choice of four milkshake flavours, made using a range of clean syrups that are also being trialled in Nunney for the first time. Flavours will include Chocolate, Strawberry, Banana and Salted Caramel, with empty one-litre bottles and Grab-and-Go cups available to purchase over the counter inside.
During half-term, the Golden Hooves team hosted a free sampling event where visitors hadthe opportunity to try Golden Hooves milk, milkshakes and cheese, while learn more about regenerative farming.
The product of a collective drive to achieve better outcomes for the planet, this regenerative milk vending project follows the recent launch of Golden Hooves' Mature Cheddar. The cheese is now available from independent retailers across the South West, all part of the Golden Hooves pledge to make everyday produce, that is good for the planet and people, the better choice.
Leona McDonald, director of Golden Hooves, says: "As a Somerset resident, I'm so excited to be beginning our off-farm milk vending project in Nunney. Bill the Butcher has already established a loyal customer base for his regeneratively farmed meat, so we can't wait to see what locals make of our regeneratively farmed milk and new milkshake flavours. Our vending sites have been a real hit on farms across the UK, and we hope that machines at local stores can help us to fly the flag for our 700 members and their collective sustainability efforts.
"This milk is an expression of our continual commitment to regenerate our shared earth, on a scale that can ensure a positive future for the many, not the few. If people join us on our journey, then dairy farming can leave the world in a better place."
Golden Hooves Mature Cheddar is available from Bill the Butcher in both Nunney and Bruton, as well as online at thecheesemarket.co.uk for £3.95 per 200g pack.