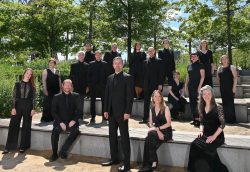 SALISBURY'S Autumn vocal festival is all ready to Celebrate Voice again from 19th to 28th October in the city, marking its tenth year by welcoming the BBC Singers to the Italianate church in Wilton, and all other events to the Guildhall.
Founder and director, Lynsey Docherty is delighted that the festival, which has recently become a registered charity, is once again filling the city with music of all varieties from jazz to opera, musicals to meditation, comedy and cabaret.
"Bringing a British musical institution such as the BBC Singers, in a year where they have featured in the world press, is a momentous achievement for Celebrate Voice. The festival line-up represents the high-level of artists people have come to expect," she says.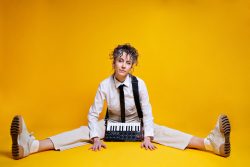 The weekend when bookings opened broke all previous records, and there are many ways to join in with the musical festivities.
The rare out-of-London performance by the BBC Singers, conducted by Bob Chilcott, opens the celebrations on Thursday 19th with a programme that includes two works by Sarah Quartel and music by Chilcott, Roderick Williams, Kristina Arakelyan and Hubert Parry. Some tickets are still available for this concert in one of the area's most beautiful churches.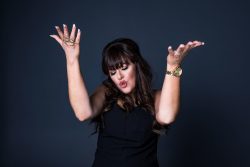 On Friday 20th, Lynsey moves into Mozart mode as she joins the cast of Cosi fan Tutte – sub-titled Carry on Cosi for the occasion – for the first of three performances at the Guildhall. If it is anywhere near as entertaining as 2022's Pirates of Penzance, you'll want to be sure of a seat. Other performances are on 25th and 28th October, and the cast includes Toby Stafford-Allen, Natasha Page, Leilani Barratt, Matthew Siveter and ​Frederick Jones. The production is directed by Fred Broom, and conducted by Phillip Thomas.
The day also offers a singing workshop with the BBC Singers and Unlocking Memories, a therapeutic workshop for dementia sufferers.
On Saturday Mini Music Makers, up to the age of four years, get their chance to join in, and Discover Inner Harmony introduces participants to Sahaja Yoga World Music Meditation at the Guildhall. In the evening its jazz from Natalie Williams and Ronnie Scott's All Stars performing The Soho Songbook.
If you'd like to try your skills at singing Gilbert and Sullivan, you can join the Celebrate Voice Come and Sing HMS Pinafore from 10.30am on Sunday, with a concert performance at 2.30pm. Main roles will be taken by the stars of Carry on Cosi.
The festival branches out into theatre on Tuesday, when Guy Masterson brings his celebrated solo reading of Dylan Thomas's Under Milk Wood back to Salisbury.

On Wednesday it's time to Celebrate Babies, from birth to crawling, with Musical Time Travellers. The always popular Celebrate Age Gala on Thursday is sold out. It is followed by Live at the Musicals, with Zoe Curlett, Katy Hanna, Keiron Crook and Simon Shorten, directed by Simona Budd. Together they have created a special show for the festival that celebrates the essence of musical theatre.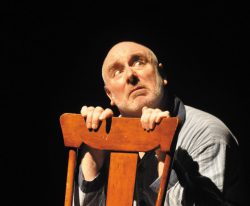 On Friday 27th October there is a Create a Show session for people with learning disabilities and in the evening a cabaret and comedy double bill with Adam Drew and Amy Webber.
The final day of the festival has Tiny Troubadours in the morning Emerging Voices in the afternoon and the last performance of Cosi fan Tutte.
For more details, visit the website, www.celebratevoice.co.uk – and book soon, or you'll be too late.