VETERAN Cornish actor David Mynne, well-known from his solo work and appearances with the much-missed Kneehigh Theatre, is a favourite with Artsreach's village hall audiences. He is back with his uniquely hilarious and vivid one-man version of Chaucer's bawdy Canterbury Tales, at Piddletrenthide Memorial Hall on Friday 13th October, Corfe Castle village hall on Saturday 14th and Wootton Fitzpaine village hall on Sunday 15th, all at 7.30pm.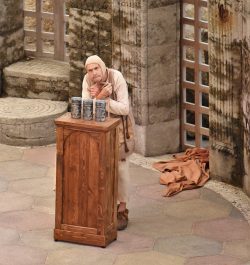 Here's The Canterbury Arms, an olde English Inne,
Infamous around these parts for villainy and sin.
The floor is caked in sawdust, for soaking up the spit,
And the air is thick with stories told with wisdom, guile and wit.
Some stories are romantic, some are bawdy, others scary
And there are tales about the devil that should make you oh so wary,
Some are beautifully poetic and some a little coarser;
A medieval mash-up from the pen of Geoffrey Chaucer!
Revered as one of the most important works in English literature, The Canterbury Tales paints an ironic and critical portrait of 14th century English society. All of life is here in these bawdy, funny and sometimes shocking short stories.