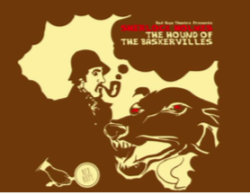 RED Rope Theatre is staging a new version of Sherlock Holmes: The Hound of the Baskervilles, in the Anglican Chapel of Arnos Vale Cemetery in Bristol, from 15th November to 1st December.
Written by Matt Grinter and adapted from Arthur Conan Doyle's spine-chillingest mystery, it tells the story of age-old fears. The locals whisper of a family curse: death at the fangs of a beast so foul that its blood curdling howls can be heard across the moor as it prowls the night.
Is this a sinister lie preserved for generations, or a supernatural phenomenon? Can Holmes and Watson uncover the truth, or will they become the next victims.
Roisin McCay-Hines directs this exciting production, which follows the Bristol-based company's previous Arnos Vale forays – Dracula, Turn of the Screw, Frankenstein, Dr Jekyll and Mr Hyde and last year's A Christmas Carol.
The cast includes Elliot Chapman, Patrick McAndrew, Rebecca Robson and Dannan McAleer.