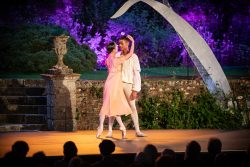 THE four-day celebration of ballet and dance at Hatch House near Tisbury ended with one of the coldest, wettest days of an exceptionally cold and wet July. But it takes a lot more than a bit of bad weather to deter fans of the "Glyndebourne of dance" – and this year's audience was rewarded with a dazzling programme of classical and new work, danced by an exceptional line-up, including several of the Etoiles of the Paris Opera Ballet.
All eyes were particularly focused on the brilliant young star Guillaume Diop, the first black dancer to be chosen as an Etoile, who performed the Nureyev-choreographed pas de deux from Don Quixote with his fellow Etoile, Valentine Colasante, and the gorgeous Balcony scene from Romeo and Juliet, with Luna Peigne.
Hatch favourite Ksenia Ovysanick performed the solo La Porte, choreographed by Bejart, and a pas de deux with Dinu Tamazlacaru, a Principal dancer at the Berlin Staatsballett, to music composed by Fanny Elssler and choreographed by Piere Cacotte.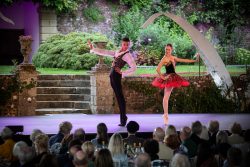 Another Hatch favourite, Mara Galeazzi, a former Principal of the Royal Ballet, danced her own new work, Toujours, partnered by the American dancer Jason Kittelberger. The new work was commissioned by the Dicky Buckle Fund, which is supported by Hatch Ballet, and is dedicated to the memory of Mara's father.
Matt Brady, the founder and artistic director of Covent Garden Dance Company and the Hatch ballet festival, was understandably delighted by the success of this year's programme, despite the cold and wet of the final night.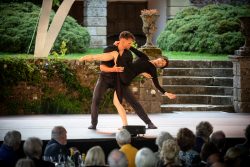 He said: "The 2023 productions at Hatch House were a joy to present to our loyal audience. It is a constantly evolving process and concept but we feel we are finally nearly at where we need to be at this point of the journey. We are hugely grateful to Savills and Country Life for their continued support and are looking forward to taking this unique production to the next stage of its development. Watch this space!"
Pictured: Paris Etoiles Valentine Colosante and Guillaume Diop, in the pas de deux from Don Quixote, choreographed by Rudolf Nureyev; Guillaume Diop and Luna Peigne in the Romeo and Juliet balcony scene; Mara Galeazzi and Jason Kittelberger dancing Mara's new commission, Toujours.
Photographs by Alice Pennefather.