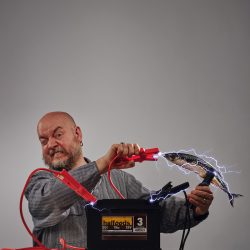 THE comedian who cooks, the chef who makes you laugh … George Egg is back in Dorset with his latest show, which scoops the cream of his culinary jokes, Set Menu. After several Artsreach dates at the beginning of the year and gigging at the Glastonbury Festival, George comes to Winterborne Stickland's Pamela Hambro Hall, on Saturday 18th November at 7.30pm.
George Egg is the award-winning, multi-sell-out, international-touring comedian who cooks, real food (tasty, enjoyable food), often with the most improbable equipment. Described by The Scotsman as "a culinary Bill Bailey with chopping boards instead of keyboards", he has created the current show from the best morsels of his three shows over the past five years – Anarchist Cook, DIY Chef and Movable Feast.
He has cooked more than a thousand dishes in front of a live audience and none of them with a kitchen. Revisiting those unlikely environments armed with the chef's skills he's honed (he is entirely self-taught), expect to learn how to make food on a train with a laptop, in a shed with power tools and in a hotel room with the appliances they unwittingly provide you with.
George will serve up three plates of gourmet food prepared in the most unconventional of ways, and with the opportunity to taste the results at the end. It's time for the funniest recipes and the most delicious jokes.