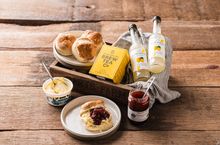 The writer Henry James famously wrote in The Portrait of a Lady: "There are few hours in life more agreeable than the hour dedicated to the ceremony known as afternoon tea."
WHATEVER your view on the cream or jam on top scone debate, most of us can agree that the South West has the best cream teas, so it's time to start planning your own celebration for Afternoon Tea Week, this year from 7th to 13th August.
We have been celebrating Sunday tea for more than 40 years with a group of friends who all love to bake and believe that afternoon tea should be served at a table with cakes and scones and sandwiches and real tea poured from a proper teapot and china cups and saucer. We have a few other "rules" – including always having to try a bit of everything, and something new each time – but most of all, it is an excuse for us to get together and indulge! (And it's not just Sundays, it can be birthdays or any other special occasion).
The perfect cream tea should include proper tea, of course, made with tea-leaves not tea-bags, ideally a couple of plates of elegant sandwiches, some home-made cake (Victoria sponge with cream and fresh strawberries is always popular), some refreshing cold drinks (even a bottle of bubbles if you want to push the boat out) – but the absolute essentials are home-made scones (purists will tell you that these should NOT have fruit in them) with the best clotted cream and strawberry jam.
But if you can't bake or haven't got the time, the award-winning West Country farm shop, Dart's Farm at Topsham near Exeter, has the solution – Darts Farm's Cream Tea Hamper, packed with West Country delights
The hamper has everything that you need to create your own Devonshire cream tea –freshly baked Ryder's Bakery scones, Rodda's clotted cream and Waterhouse Fayre strawberry jam, Luscombe's refreshing Sicilian Lemonade and a bottle of fizz from Darts Farm's own Pebblebed Vineyards.
Ryder's Bakery is a family business, that has been baking in Devon for almost 50 years. Shaun and his son Sam use traditional methods to hand-bake their classic Devonshire scones.
Waterhouse Fayre Strawberry Jam is made by Ann and Neil Stallard, who make their award-winning jams and preserves in Devon in small batches in open preserve pans.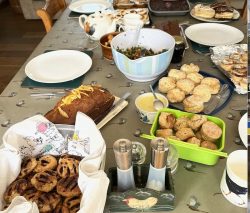 Luscombe Sicilian Lemonade is one of the range of organic drinks that have been produced by Gabriel David and his family in South Devon for 45 years.
Rodda's is the famous Cornish family business that has been making delicious cream, using Cornish milk, for more than 120 years. They follow a traditional cooking method which gives the clotted cream the perfect golden crust!
Brew Tea is not from Devon – the teas come from India, China, Kenya and other countries, with a commitment to high quality, hand-picked, rolled, whole-leaf tea.
Dart's Farm, which was named Large Farm Shop of the Year in the Farm Retail Association Awards 2022, began as a pioneering pick-your-own business, founded by Ronald Dart in 1971, in Topsham, overlooking the beautiful Clyst Valley, just outside Exeter. It remains a family business on a working farm, run by the Dart brothers with the retail side looked after by Michael and James and the farm headed up by Paul.
With Ruby Red Devon cattle grazing in the fields, Paul Dart and his team harvest a wonderful selection of fresh fruit and vegetables daily, which are sold in the food hall and used by the restaurant in their delicious seasonal dishes.
For more information visit www.dartsfarm.co.uk