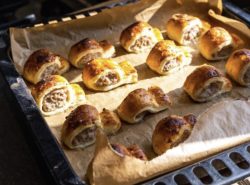 DORSET food producers, including Dorset Pastry, were among the winners of the 230-plus coveted three star awards in this year's Great Taste Awards, run by the Guild of Fine Food at Gillingham.
The pastry company, based at Crossways, is renowned for its all-butter puff and shortcrust. The family-run business was founded by Moira Blake in 2001. She saw a gap in the market after searching for high quality, all-butter puff pastry and finding none on shelves – and certainly nothing close to organic pastry.
Fast forward 20-plus years and Dorset Pastry is today the first producer of Organic Puff Pastry in the world. The company gained three of the top Great Taste awards, for Premium fine puff pastry, Organic fine puff pastry and Premium shortcrust pastry.
With nearly 14,000 entries this year, the Great Taste Awards are now firmly established as not only the UK's but Europe's premier food accreditation scheme, particularly respected because the judging, across almost all food and drink sectors, from beer to brie, honey to vegan snacks, is done on the basis of blind tasting. There were more than 230 three-star awards, including products from Spain, Greece, Ireland and Taiwan.
Other Dorset three-star winners were: Angel Cottage Organics, Haddon Copse Farm near Sturminster Newton, for their organic whole chicken; Capreolus Fine Foods, Rampisham, for Dorset Coppa; Hollis Mead Organic Dairy, Corscombe, for Hollis Mead organic truffled Benville Brie; The Wasabi Company, Waddock Cross near Dorchester, for their Sansho Spiced Rum; and Woodlands Dairy for Woodlands Dairy Organic Sheep Milk Yogurt.
Somerset three-star winners were Claire's Kitchen, Taunton, for her Sourdough seeded crackers; Swoon Gelato, Bath and Bristol, for their Torta Siciliana gelato and White Lake Cheese, near Shepton Mallet, for Tor goats cheese
Hockeys Farm Shop, based in the New Forest near Ringwood, was awarded three stars for its Rare Breed British Lop spare rib of pork, and another New Forest business, Lyburn Farmhouse Cheesemakers, at Landford near Salisbury, gained three stars for their Stoney Cross cheese.
Among the other big three-star winners was The Artisan Kitchen, based in Gloucestershire. Preserve maker Sarah Churchill has won an amazing eight three-stars for her preserves and marmalades.
Pictured: Sausage rolls made with Dorset Pastry's premium puff pastry.