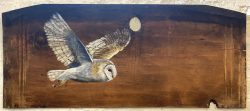 WYLYE Valley artists Nick Andrew and Tanya Hinton have a joint exhibition at Shaftesbury Arts Centre, from 8th to 21st November, featuring new river-based paintings by Nick and Tanya's wonderful wildlife studies painted on reclaimed surfaces (usually wood).
The paintings in Wet and Wild mostly feature the River Wylye, a constant subject for Nick over many years, with his studio at Bull Mill, Crockerton, and home close to the beautiful chalk stream. There are also scenes from further afield, including a millpond on the river Avon south of Salisbury, painted during this summer's heat.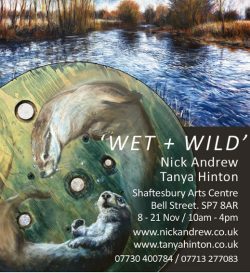 The exhibition also features some of Nick's Spire drawings, studies he made around Salisbury, always with a view of the Cathedral, either from close up or from one of the viewpoints outside the city.
Other galleries and exhibitions featuring Nick and Tanya's work include the Winter exhibition at Gallery by The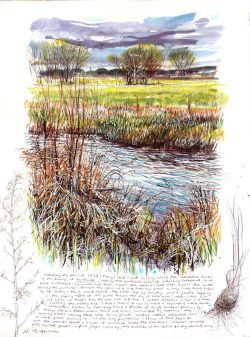 Lakes at Pallington Lakes near Dorchester; Bull Mill Winter Open Studios and Bazaar Saturday 2nd to Sunday 10th December 10am – 5pm; Salt Marsh Gallery, Lymington; McNeill Gallery, 2 Market Place, Pewsey; and First View Gallery, Spread Eagle Courtyard, Stourhead.
Pictured: The poster for the exhibition; Nick Andrew, Spire, from north-east-by-north, River Bourne at Hurdcott; Nightwatch, by Tanya Hinton, painting on reclaimed wood.