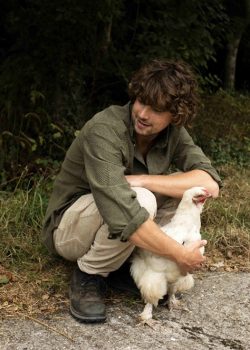 FIRST generation farmer, chef and internet star, Dorset-based Julius Roberts comes to the Butterfly House at Castle Gardens at Sherborne on Wednesday 8th November at 7pm to talk about his newly published, first book, The Farm Table at Castle Gardens
The event is being held to conjunction with Winstone's Bookshop in Sherborne, and will include Julius talking about his Dorset-based farm and demonstrating recipes taken from the new book.
Making the most of simple ingredients, Julius' recipes are thoughtful yet simple to prepare, all created to help home cooks to reconnect with nature and the seasons. Offering a collection of dishes that involve a few good things on a plate, assembled with joy and ease, The Farm Table includes seasonal recipes such as an elegant, fuss-free winter dinner of roast pumpkin, mozzarella, hazelnuts and sage, a baked fish with herbs and asparagus for springtime, a ratatouille galette for summer and an autumnal smoked haddock and leek rarebit.
Julius grew up in London, studied sculpture in Brighton and worked as a chef at the famous Noble Rot in London, before embarking on his journey to become a fully-fledged, self-taught, first-time smallholder. This background, for someone who is just 21, enables him to share honest stories of the challenges and joys he has encountered – as well as recipes he created along the way.
Tickets are available to purchase from Winstone's on Cheap Street, shop.winstonebooks.co.uk
Photograph by Elena Heatherwick